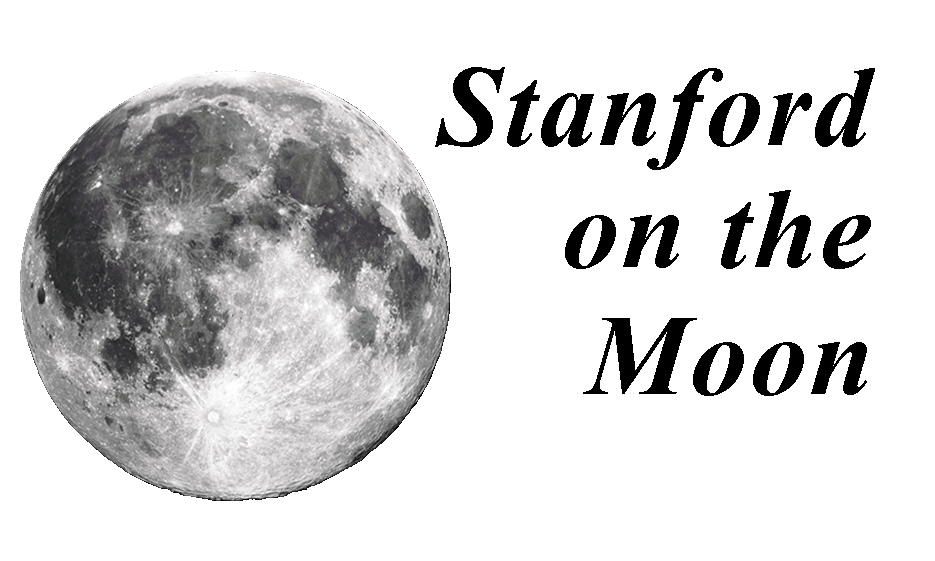 Advisory Committee Members
October 2018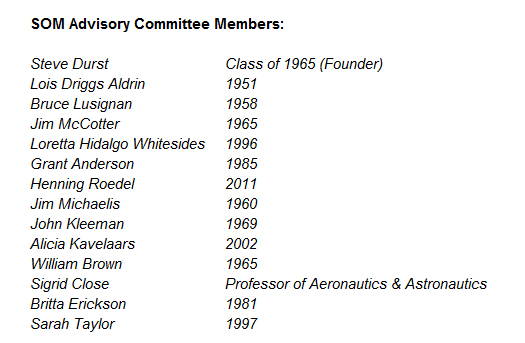 September 2017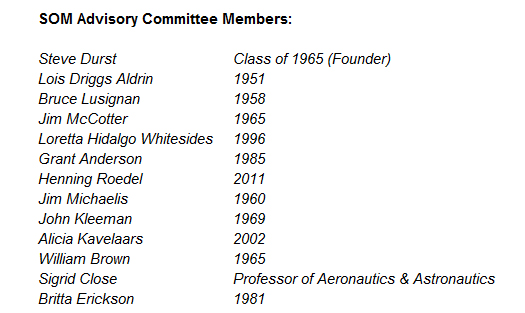 Other Participants / Biographies
Buzz Aldrin
Buzz Aldrin, married to Lois Driggs Aldrin (Stanford 1951), was with Neil Armstrong the first human to land on the Moon in Apollo 11 on July 20, 1969. He graduated with honors from West Point in 1951 and earned the first Doctorate in Astronautics from the Massachusetts Institute of Technology in Manned Space Rendezvous. Buzz was selected as an astronaut by NASA in 1963 and has logged 290 hours in space and 8 hours of extra vehicular activity. Upon his return, Buzz embarked on an international goodwill tour and received over 50 distinguished awards and medals, including the Presidential Medal of Freedom. Since retiring from NASA, Buzz remains in the forefront of efforts to ensure a continued leading role for America in human space exploration. He has designed "The Cycler," a plan for a perpetually orbiting spacecraft system linking Earth with Mars, received a patent for his space station design, founded a rocket company and a nonprofit in support of space tourism. He has authored two space novels, an autobiography, a documentary and a book for children. Buzz continues to lecture and travel worldwide and is a leading voice for future space efforts.
Lois Aldrin
Lois Aldrin completed her undergraduate degree in education at Stanford University in 1951. In 1988, she married Buzz Aldrin and combined her flair for public relations, communications and marketing with personally managing all of Buzz's endeavors. Lois is a very active community leader in Southern California and holds the position of Promotional Director for Starcraft Enterprises, which handles the diverse facets of Buzz Aldrin's innovative, promotional, literary and scientific space efforts.
Grant Anderson
Grant Allan Anderson, a '85, '86 graduate of Stanford (BSME and MS Aero/Astro), has 20 years experience in space system design. Mr. Anderson, VP Engineering at Paragon, directs and performs analysis and design of life support and thermal subsystems, technologies and materials—most recently for OSP. He has performed experiment design and payload integration for several missions aboard Shuttle, Mir, Progress and ISS. He was the Project Leader for the Space Station Solar Array Program.
Mark Cappelli
Mark Cappelli earned a B.S. in Physics at McGill University in 1980, and an M.S. and Ph.D. in Aerospace Science and Engineering at the University of Toronto. Mark's research interests are plasma spectroscopy, plasma propulsion, and plasma and combustion synthesis of materials. He has authored over 100 papers in these areas and is currently a member of the Editorial Board of Diamond Films and Technology, as well as secretary of the Electric Propulsion Technical Committee of the American Institute for Aeronautics and Astronautics. Mark is Associate Professor in the Thermosciences Division of the Department of Mechanical Engineering at Stanford University and Principle Investigator at the Stanford Plasma Dynamics Laboratory.
Steve Durst
Steve Durst graduated from Stanford with BA in European History 1965 and MA in American History 1966. His residency with Stanford in France VI in 1963 was one of his most formative university experiences and provides in part the genesis for the Stanford on the Moon initiative. Editor and founder of Space Age Publishing Company in Palo Alto 1977 and in Hawaii 1988, and director of its Lunar Enterprise Corporation subsidiary, Steve works through new space / age perspectives with American, commercial and international professionals to achieve human presence on the Moon and beyond, asap. Each of his children, thanks to their mother, has a name related to the Stars or Moon.
Bill Fisher
Bill Fisher completed his undergraduate degree at Stanford University in 1968 and a medical doctorate at the University of Florida in 1975. He also completed a Masters Degree in Mechanical Engineering at the University of Houston. He served as a NASA Astronaut from 1980-1992. During Space Shuttle Mission STS-51I in 1985, he performed the longest duration spacewalk to date while making repairs to a satellite weighing almost eight tons. Bill is an Associate Professor of Emergency Medicine at the University of Texas and a practicing physician.
Michelle Gonella
Michelle Gonella is a native of the San Francisco Bay Area and a member of the Class of 1981. She earned an AB in Art History at Stanford University and has since studied and executed advanced work in a variety of media. Michelle has a background in marketing, design and product management within the toy industry, as well as marketing and sales experience in fine art and interior design. Other experience includes consulting, administration and management. Michelle currently is employed by Space Age Publishing Company, in addition to maintaining her own fine art and design business.
Loretta Hidalgo Whitesides
Loretta Hidalgo Whitesides has a Masters degree in Biology from Caltech and a Bachelors degree in Biology from Stanford (1996) and has participated in research expeditions to the High Arctic as well as 3,519 meters underwater to the Mid-Atlantic Ridge. In 2003 she was part of a team that dove to the bottom of the ocean with Director James Cameron to film a 3D IMAX movie discussing the search for life in the universe called "Aliens of the Deep." In 2004 she worked for the X PRIZE Foundation and is also an FAA-certified In-Flight Crewmember for ZERO-G, which is the only company to offer "weightless" flights in the United States. She is on the Board of the Space Generation Foundation and the Co-Creator of Yuri's Night, the World Party for Space. Between degrees she interned at NASA in the Astronaut office, worked on Safety for the International Space Station, was staff at the NASA Academy and served as the North American Representative to the Space Generation Advisory Council. Currently Loretta is working as a contractor at NASA HQ working in the Communications Office for Exploration Systems. Loretta's passion is bringing together people who want to use space to make a difference in the world.
Umran Inan
Umran S. Inan is a Professor of Electrical Engineering at Stanford University, where he also directs STAR Laboratory's VLF Group and Affiliates Program. Umran's specific research interests are ionospheric and magnetospheric physics, lightning discharges, wave propogation and scattering, VLF/LF remote sensing, satellite observations of plasma waves, dynamics of the radiation belts, planetary plasma waves, and active wave-injection experiments. A faculty member since 1982, Umran is a member of IEEE, the American Geophysical Union, Sigma Xi, URSI, and the Electromagnetic Academy. He has authored over 110 scientific and technical papers and conducts significant research in Antarctica.
Daniel Kraft
Daniel Kraft completed his undergraduate work at Brown University and medical school at Stanford University. He was a Howard Hughes Medical Institute Research Fellow from 1992-1995 in the lab of Irv Weissman and did research at NASA Ames, as well as participating in Bruce Lusignan's E235 class. Daniel's love of space exploration and flying began when, as a four year old, he watched the lift-off of Apollo 17 at the Kennedy Space Center. As an undergraduate, Daniel spent a summer clerking at Johnson Space Center where he met Apollo 17 astronaut Eugene Cernan, the last person to walk on the Moon. Daniel also serves as a flight surgeon with the California Air National Guard in Fresno.
Bruce Lusignan
Associate Professor; Director, Communications Satellite Planning Center, and Center for International Cooperation in Space Communications Networks, Ground Station Engineering, and Digital and Photonic Switch Design, Lusignan designs and introduces advanced communications and space systems, including satellite television stations, low cost two-way voice stations, and high data-rate stations. He has supplied planning support to many nations. He directs an international planning effort for cooperative exploration of Mars. He directs a weekly seminar on war and peace, trade and environment, and poverty and prejudice, as well as teaching a lunar base development course in Spring 2005. Ph.D. Stanford 1968.
Jim McCotter
Jim McCotter is a third generation Coloradoan. After attending Stanford ( 65), he returned to Colorado for law school. His employment over the next 32 years consisted of a judicial clerkship, two stints with law firms and two with companies that took him from Denver to Washington, D.C., back to Denver and then to El Paso, TX. Although his career saw lots of different aspects of the law, his main clients and employers were corporations and his specialty related to the regulatory and other legal issues of public utilities. He retired from the last job 4 years ago and has moved back to Denver, where he lives in a condo downtown. Same wife for 40 years and 2 daughters are making this a special summer.
Jim Michaelis
Jim Michaelis, Class of 1960, is an attorney in Westlake Village, California, whose firm specializes in aviation accident insurance defense, with a subspecialty of space law.
Kristine E. Nelson
Kristine E. Nelson, PhD, (deceased) was Dean and Professor in the Graduate School of Social Work at Portland State University in Oregon. For nearly a decade she was Director of Research at the National Resource Center on Family Based Services at the University of Iowa, one of ten national child welfare resource centers. Kristi is coauthor of Reinventing Human Services: Community- and Family-Centered Practice (Aldine, 1995), Evaluating Family-Based Services (Aldine, 1995), and Alternative Models of Family Preservation: Family-Based Services in Context (Charles C Thomas, 1992). She earned her doctoral degree at the University of California at Berkeley (1980) and holds an MSW from Sacramento State University (1970) and a BA from Stanford University (1965). Kristi was also a participant in Stanford in France VI and is interested in the social and psychological aspects of a human presence on the Moon.
Bob Twiggs
Bob Twiggs is a Professor in the Aeronautics-Astronautics Department of Stanford University. Bob's main interest is in the development, launch and operation of small low-cost satellites for space applications feasibility demonstrations and the space qualification of new spacecraft components. He is also involved in the development of low-cost satellite communications for command, control and data acquisition at remote earth locations, and in the miniaturization development of space experiments for low-cost spacecraft missions, as well as serving on the review board for the Journal of Small Satellite Engineering.
Leslie Wickman
Leslie Wickman is Director of the Center for Research in Science at Azusa Pacific University. As a former Lockheed employee, Leslie received recognition from NASA for her work on the Hubble Space Telescope and the International Space Station, as well as being designated Lockheed's Corporate Astronaut. Leslie received her undergraduate degree at Willamette University, a Master's Degree in Aeronautical and Astronautical Engineering from Stanford, and a Doctorate in Human Factors and Biomechanics, also from Stanford. Her current research focuses on sustainable water reclamation methods and she also serves as a consulting scientist on crew systems and human factors considerations for future space vehicles and extreme environment physiology projects.